Squeezable tubes line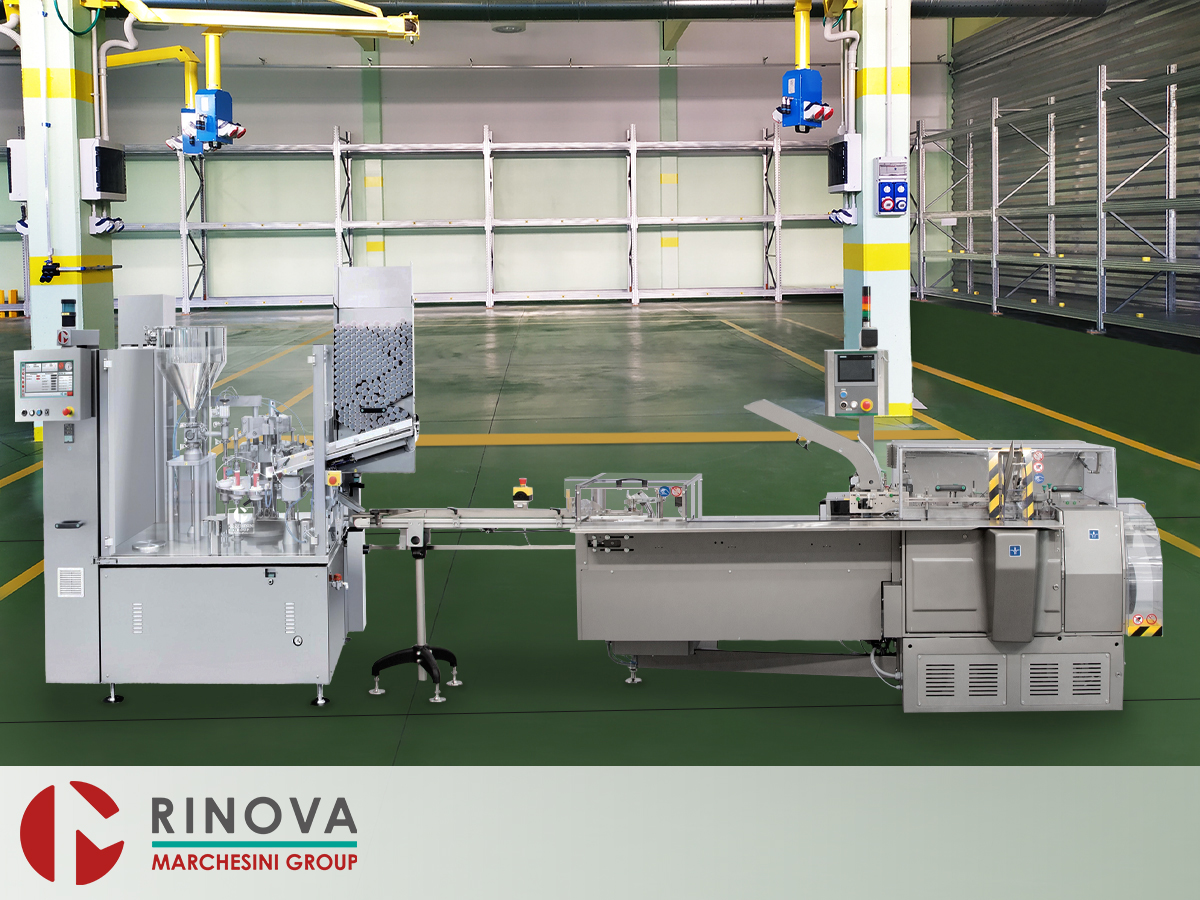 The squeezable tubes line refurbished by Rinova is a line for the packaging of squeezable tubes capable of producing up to 50/60 cartons per minute.
The line is composed as follows:
Tonazzi Colibri-1001: an automatic tube filler suitable to fill and close aluminium, polyethylene and laminated tubes.
Marchesini BA100: a horizontal intermittent-motion cartoner for squeezable tubes, specifically designed to address the main cartoning applications for medium production rates.
Tonazzi Colibri-1001
Main features
AISI 304 stainless steel machine body and bottom covers
AISI 304 stainless steel removable covers to easily reach inside parts
Electronic speed variator with digital setting of machine speed
Safety coupling to protect mechanical members
Parallel index drive similar to Ferguson
Anticorrosion treated upper parts
Electronic control and safety systems controlled by a Programmable Logic Control (PLC S7-300 SIEMENS)
SIEMENS "TP700" interactive display of machine functions and alarms provided with on-line help to solve minor problems; advanced control of adjustments, such as:
Machine speed
Product tail cut-off
Counter
Storage of operation parameters to form a collection of recipes of the different products filled on the machine
12-position turntable with twin tube holders
AISI 316L stainless steel infeed hopper, 40-liter capacity
Automatic high capacity tube feeder, Mod "JUMBO"
Control of the presence of tubes having a wrong position on tube loading chute (capsized tubes)
Device to pneumatically hold tubes during transfer into tube holders
Pusher assembly ensuring tubes are properly positioned in relevant tube holders and consequently perfectly closed
Automatic tubes registration assembly with photocell and potentiometer to delay tubes stop in its correct position
AISI 316 L stainless steel volumetric dosing group with Tri-Clover connections
Mechanically operated dose adjustment enabling variations without machine stops
fixed injector with pneumatically operated nozzle-closing valve cutting product tail off and avoiding product leaks
Tubes bottom-up fill device lifting tubes holder during filling phase with an adjustable and progressive stroke of approx 135 mm
Device to stop the dosage if the tubes are missing (no-tube – no-fill)
One filling nozzle
One dosing piston
Control of non-ejected filled tubes stopping machine and enabling to remove a non-ejected ones
Device to stop tubes loading enabling to discharge tubes present on turntable before any planned machine stop
Safety guards in methacrylate with micro switches
Marchesini BA100
Software, mechanical and electronic parts have been completely refurbished. The machine is sold with the user manual and the technical change over datasheet, CE certified and complies with the existing safety standards.
The BA 100 is equipped with a bucket feeding chain into which, by means of dedicated feeders, are placed the products to be cartoned. Operation is completely automatic. One sensor checks for the presence of the product in the bucket and calls the correspondent carton and leaflet (if necessary), enabling the sensors of correct retrieval.
Carton erection is carried out by the traditional blade opening system, which guaranties optimal operation with the widest range of cartons and cardboard quality. Change over is simple and fast, assisted by millimetric scales.
The Siemens operator interface control panel shows all the machine functions and displays the machine status, as well as fault/alarm messages The speed is set from the control panel and allows for adjustment to the optimal production speed.
Standard control and safety devices:
Minimum carton and leaflet detectors;
Leaflet presence checking device;
Control of correct carton erection;
Pusher's safety device;
Mechanical overload on the main motor;
Operator's interface;
Safety guards according to CE standards, with Schmersal micro switches.