Sachet fillers line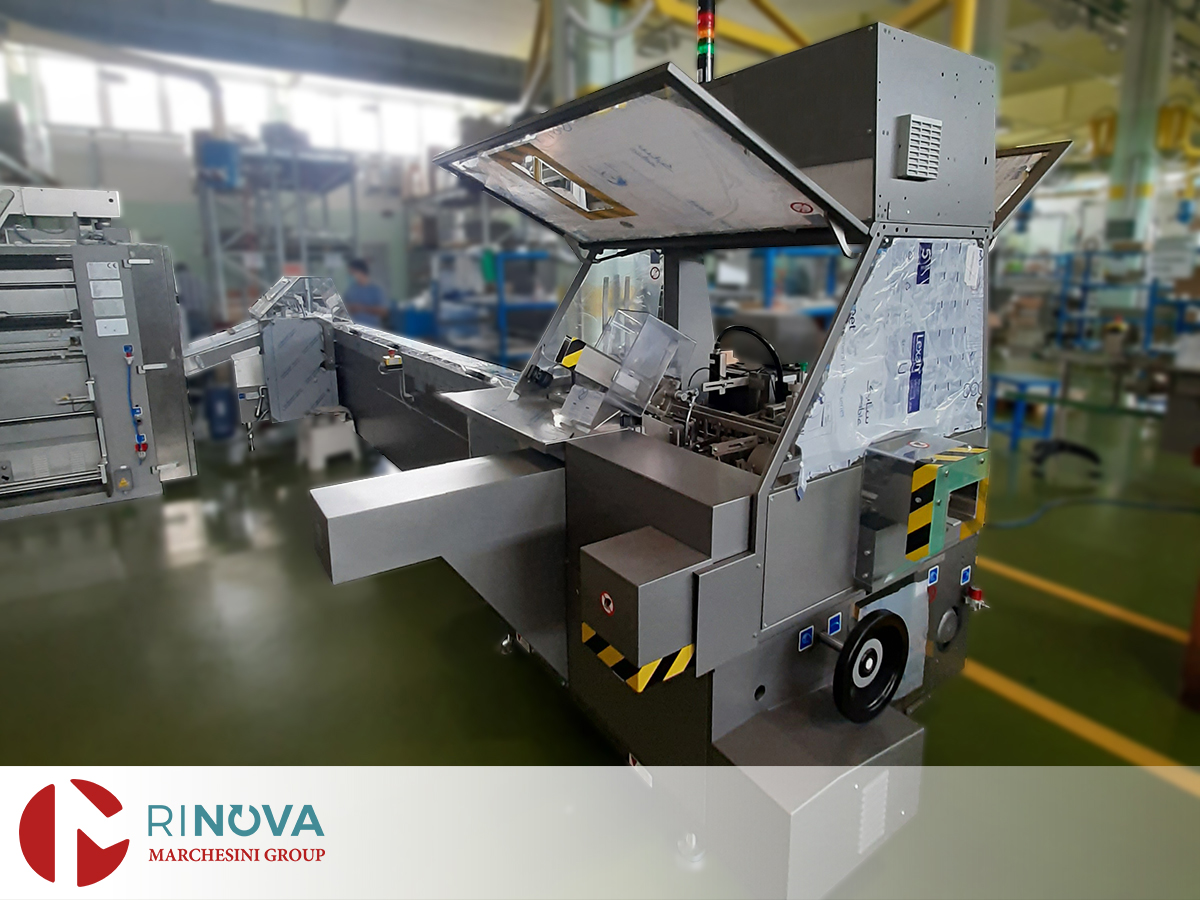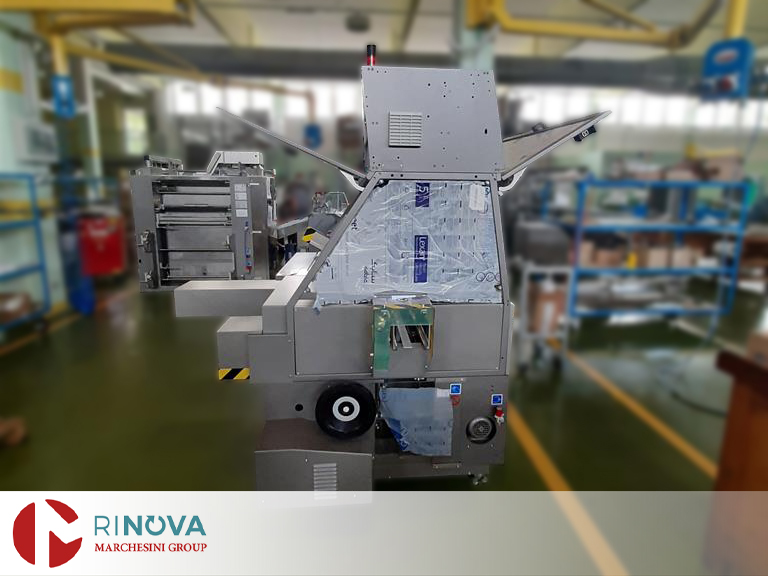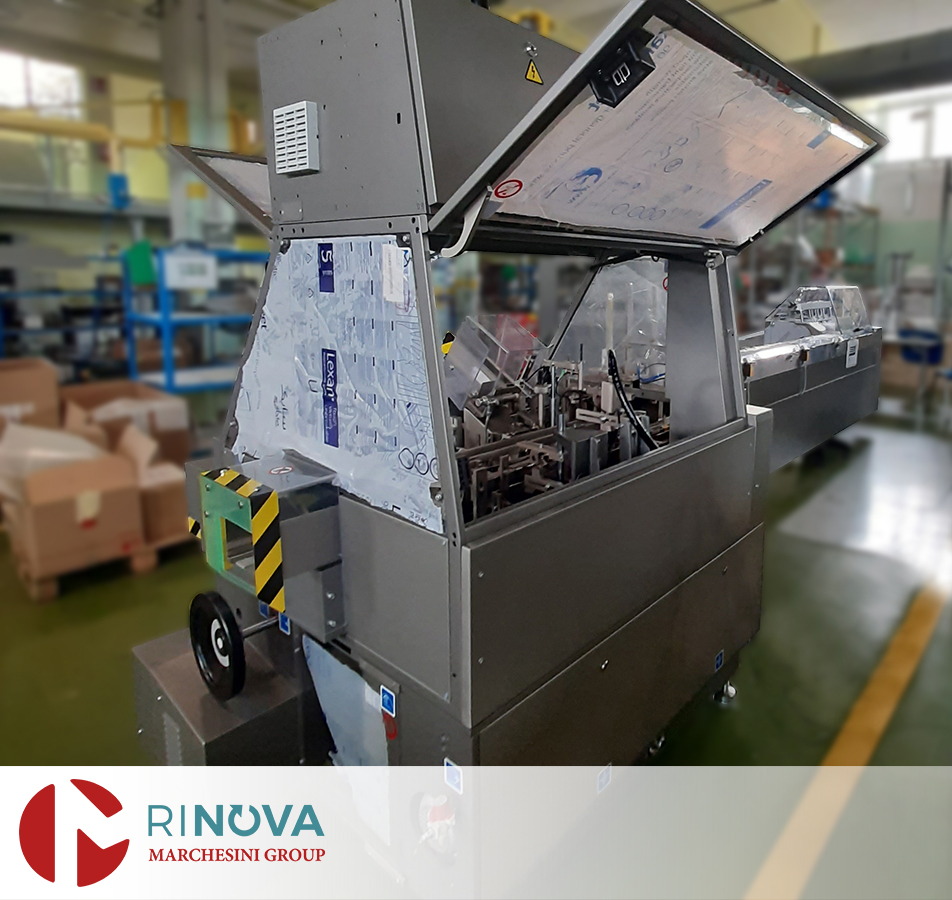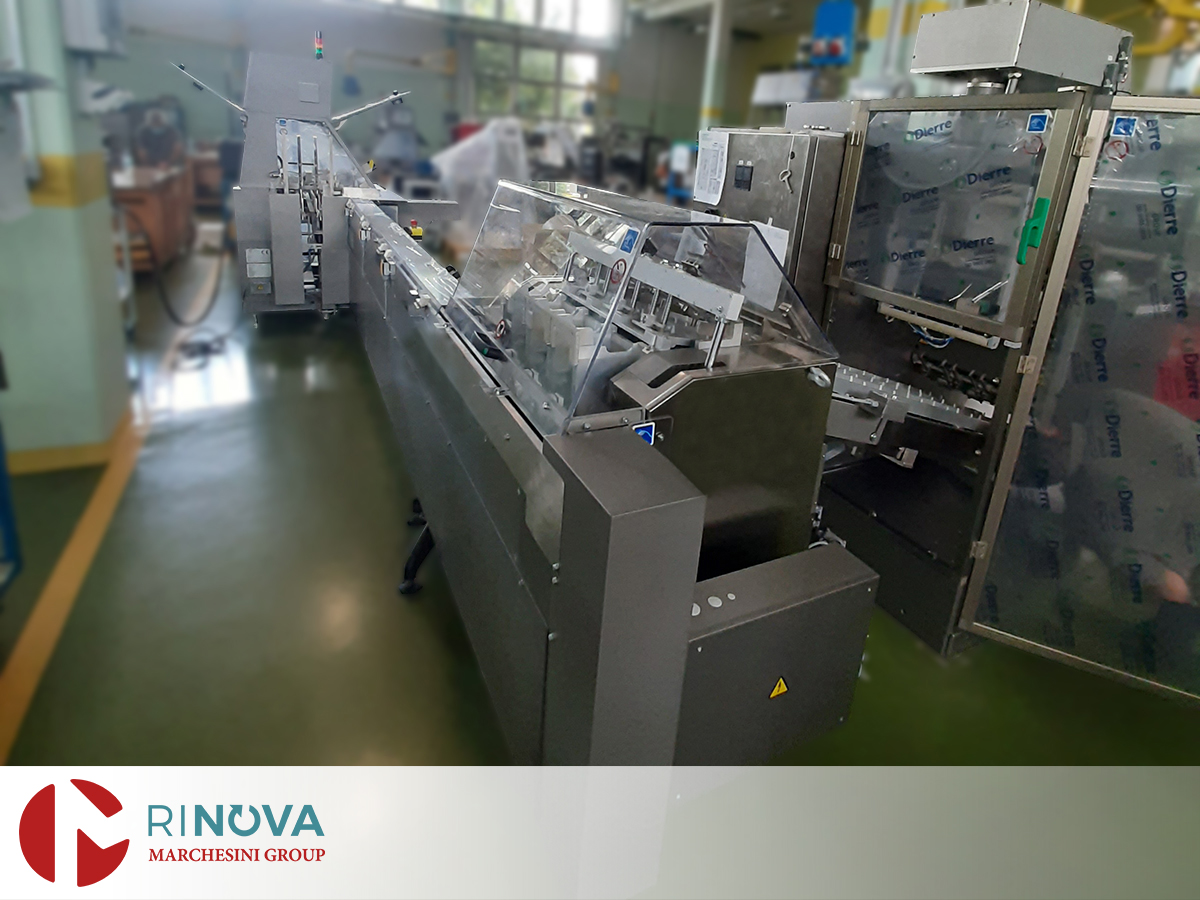 The sachet fillers line refurbished by Rinova is a line for the packaging of sachets capable of producing up to 50 cartons per minute.
The line is composed as follows:
Marchesini MS235: Intermittent motion vertical packaging machine, suitable to form sachets (pouches) from a reel of laminated material, fill them with product automatically fed, heat and seal on four sides, cut and discharge them.
Marchesini AS237: Transfer and Counting Unit.
Marchesini BA90: Intermittent motion automatic machine with horizontal transport of the carton, suitable for packing products into straight or reverse tuck-in cartons.
Marchesini MS235
Main Features
Manufactured in accordance with the GMP rules, it is delivered with CE – Certification;
Balcony design with clear separation between the frontal working area (placed on the operator side) where product and film transport is made, and the drive mechanisms which are contained in the steel welded frame placed on the rear side of the machine;
Automatic oil bath splash type lubrication;
Stainless steel front panels permitting easy cleaning and protection from dirt.
Servo motor with adjustment speed from display;
Machine functions controlled by display placed on a swivelling arm on the machine right side;
The operator intervention is required just to recall a previously set up size or to insert the data of a new size (sachet length only);
All size changeover operations can be performed from display.
Product Feeding
Basic machine has to be equipped with a dedicated product-dosing group which will be available for free flowing powders, granules and tablets. Dosing groups, easily adjustable, have been designed to handle product with the utmost care, guaranteeing, at the same time, isolation from mechanical parts;
All parts in contact with the product are in stainless steel or other FDA approved material.
Film Feeding including
Two pneumatic reel holders shafts for film material, for a max. diameter 500 mm (19,685"). For an easy change, the reels are mounted one above the other at a height of 400 and 910 mm (15,748" – 35,826") from the floor;
A single holder for a reel of diameter 800 mm (31,5") is available as optional;
Motorized film unwinder and splicing tables complete with holding film clamps;
Manual axial reel adjustment. On demand are available Servo-assistance or automatic adjustment;
Knife providing to splice the reel in two parts;
Film pulling by cold rollers with adjustable pressure.
Sealing Section
Mechanical and pneumatic motion vertical sealing plates to grant a perfect seal stability.
The sealing group is inside a closed frame reducing the dust stagnation and being the heating elements separated from the size-dedicated parts, an easy access is granted.
Sealing system designed to allow temperature, pressure and time to be independently controlled.
An expansion membrane operating on one of the two jaws adjusts sealing pressure. The pressure value can be manually adjusted. Automatic opening of the sealing plates in case of machine stop.
Sachet Discharge
Sachets pulling and vertical cutting is made inside a balcony carriage which can easily be removed for cleaning and knife replacement purposes.
Knives for the longitudinal cutting and perforated pre-cutting for an easy division of the two sachets. Rotary knife for transversal cutting.
The machine can be equipped with dedicated systems to count, collate and stack the produced sachets in order to facilitate the subsequent packaging steps.
Marchesini AS237
The unit is placed under the sachet discharge of the sachet filling machine Mod. "MS235″and is complete with:
Lug chain for pouch transport, length approx. 1800mm (70.866″);
Pouch counting and deposit of the stack into an accumulation bin;
Pusher to transfer the stack from the bin into the connection chain to the Cartoner;
Vacuum Pump BECKER "VT4.16" dry type for vacuum required from transfer and counting unit;
Control of sachet position on the lug chain of the transfer unit Mod. "AS237". If overlapping sachets are detected the machine is stopped;
Pick-up and counting control, if a missing sachet is detected during the counting process the incomplete stack is rejected.
Marchesini BA90
Main Features
Design, manufacturing and ergonomics, in accordance with GMP norms;
Small footprint;
Adjustable speed SBC motor, BECKER dry type vacuum pump and mechanical drives contained in the lower machine frame, separated from the working area;
Cartons transport with a fixed and a mobile motorized adjustable part to suit the carton length ("h" dimension);
Size changeover with millimeter scales;
CE marking.
Cartoning Section 
Inclined, fixed, carton magazine, with standard length of 700 mm (27.55"), placed at approx. 1300mm (51.18") from the floor level;
Simplified magazine guide adjustment with millimeter scales;
Carton pick up from magazine (only if product is present) by means of a suction cups arm;
Carton opening through a blade with opening levers;
Carton transfer to the working stations by means of an intermittent motion rake;
Product insertion into carton through a pusher placed on the operator side, guided by a moving funnel retracting after the pusher has moved out, to ensure the product is kept inside the carton;
Carton closing and discharge on the outfeed guides.
Safeties and Controls
Safeties guards in methacrylate, integrated in the machine frame;
Emergency circuits and protections with safety level "PLd Cat.3";
Machine stop in emergency mode and release of the air pressure;
Overload control on the main motor with mechanic torque limiter and machine stop;
Overload control on pusher during the product insertion;
Control of carton pick-up from magazine;
Control of carton opening and calls for leaflet (if present);
Product presence control prior to insertion, with machine stop;
Cross control of product-carton-leaflet: in absence of product, the machine does not pick up neither carton nor leaflet;
Machine stop after three consecutive errors.