MA 100
Intermittent motion cartoner for bottles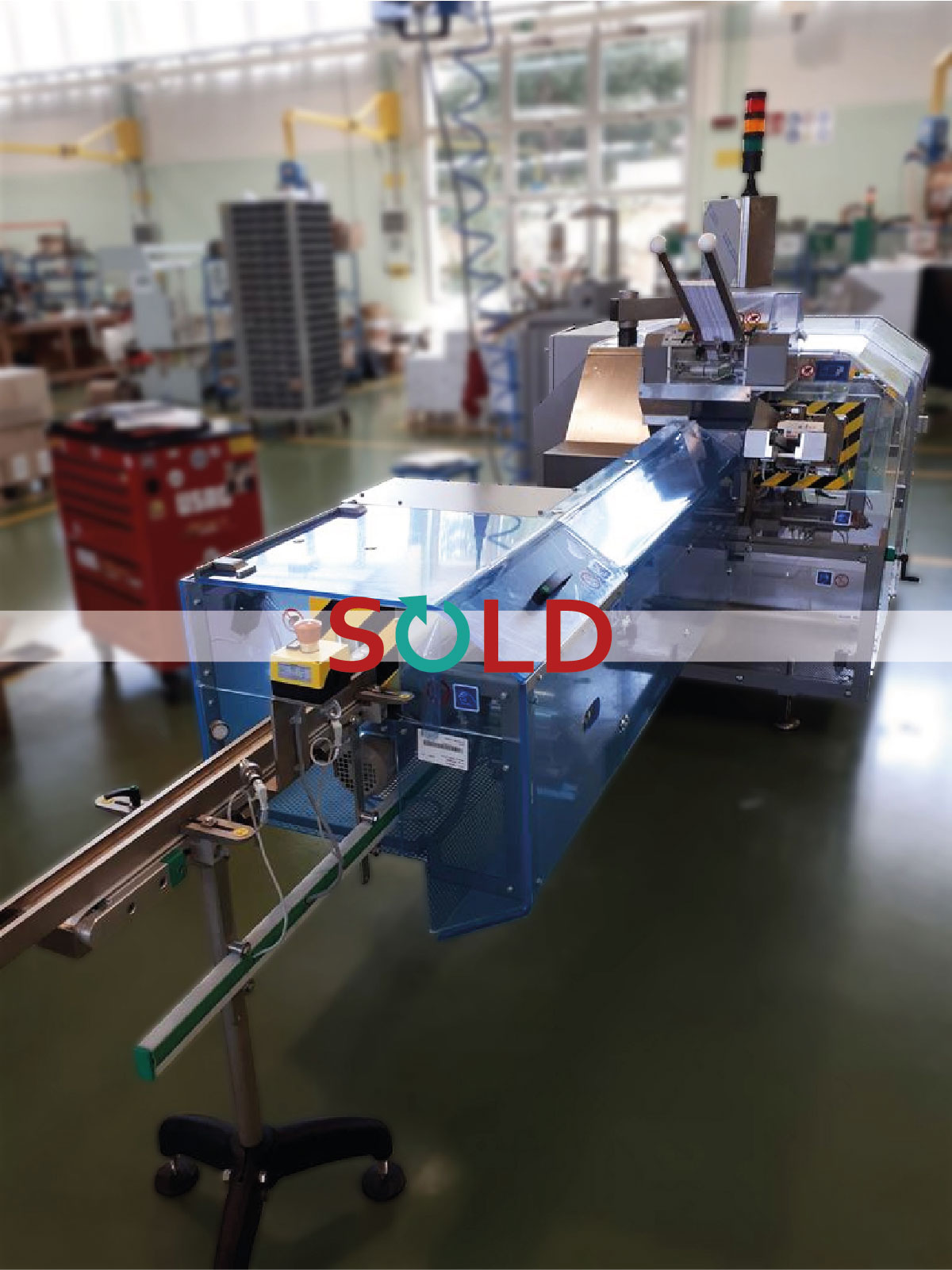 The Marchesini MA100 si an intermittent motion automatic machine with horizontal transport of the carton, suitable for packing products into three-flaps straight or reverse tuck-in cartons.
Main Features
Design, manufacturing and ergonomics, in accordance with GMP norms;
Versatility and efficiency in a small footprint;
Balcony design to improve accessibility, maintenance and cleaning operations;
Working zone on operator side for cartons, products and leaflets transport, separated from the rear of the machine enclosing the mechanics and the main servo motor drive;
Cartons transport and closing movements running in oil bath, enclosed in two drive boxes;
Cartons transport system with adjustment ("a" quote) from a single point of intervention, through handwheel and digital indicators;
Adjustment of carton length ("h" dimension), by widening the belt transport system, through handwheel and digital indicators;
Separated removable bins for collecting rejected products, cartons and leaflets;
Handwheel, digital indicators, millimeter scales and size gauges for easy size changeover;
CE marking.
Product Feeding    
Product transport performed through buckets fitted on two belts for low noise operation of the machine; prearranged to be combined with different types of automatic feeding units, based on products to handle;
Simultaneous adjustment of all infeed buckets from a single point of intervention, by means of a size gauge, for a quick adjustment of the "a" quote.
Bottle Feeder with Horizontal Helix
Bottle feeder with horizontal helix for bottle lay down, placed at machine table level;
Bottles arriving in single lane, upright standing, enter the helix which provides to lay them down;
At the end of the helix a pusher introduces the bottle into the bucket of the cartoner transport chain;
The feeder is supplied with:
– bottles feeding conveyor, 1000 mm long;
– one horizontal helix to process one bottle format size.
The group can process bottles up to a max. diameter of 75 mm;
Not included (to be quoted separately, based on the layout): bottles conveyor belt upstream the feeder.
Cartoning Section 
Cartons magazine placed at about 900 mm (35.43"), in an easy position for the operator to load cartons, equipped with motorized pusher belts and minimum load control;
Simplified magazine guides and pickup adjustment with millimeter scales;
Carton opening by means of a pick-up oscillating arm and 90 degrees mechanical pre-breaking unit;
Direct transfer of the opened carton into the transport group equipped with 4 strong plastic toothed belts to keep the carton in perfect square;
Product insertion into carton, by means of a pusher unit placed opposite the operator side;
Carton closing and discharge on outfeed guides.
Safeties and Controls
Safeties guards in methacrylate, integrated in the machine frame;
Emergency circuits and protections with safety level "PLd Cat.3";
Machine stop in emergency mode and release of the air pressure;
Overload control on the machine motorizations;
Overload control on pusher unit during product insertion;
Minimum load control on products, cartons and leaflets feeding;
Cross control product-carton-leaflet; in absence of product, the machine does not pick up neither carton nor leaflet;
Carton reject control;
Machine stop after three consecutive errors.
Included 
One (1) carton and product size.
Optional Accessories
Embossing cartons marking;
Different types of carton closures (hotmelt or tuck-in closures), available on demand;
Pre-folded leaflets magazine or GUK open/from reel sheets folder, installed within the safety guard and loaded from the outside.