BL400VTE-TT
Automatic labeller for self adhesive vignette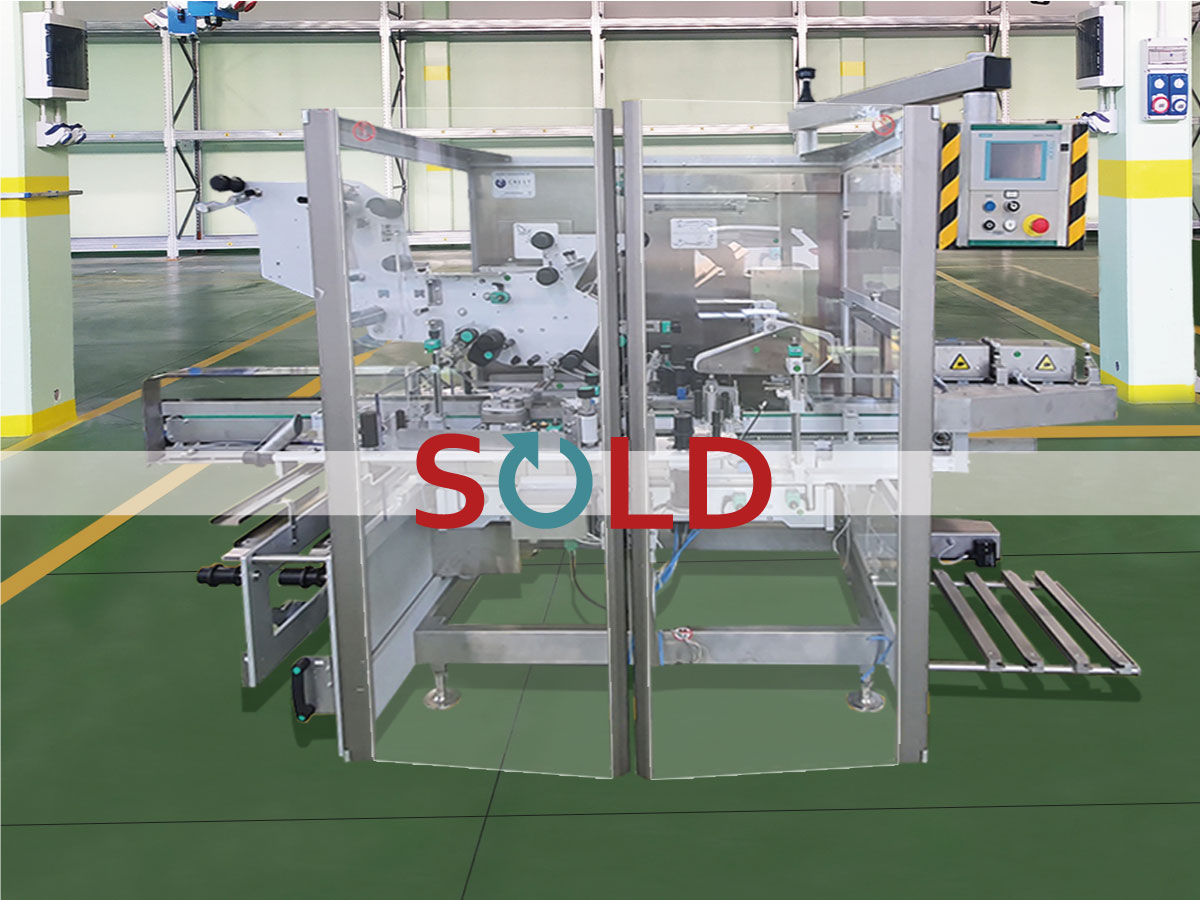 The Marchesini BL400VTE-TT is a continuous motion machine with balcony type, built in steel complying with GMP regulations. Supporting frame and panelling in stainless steel AISI304. Suitable to apply at high production speeds one(1) self-adhesive VIGNETTE on the upper carton face and TWO self-adhesive TAMPER-EVIDENT SEALS on the closure points of formed cartons straight or reverse tuck-in flaps. Conveyance system by toothed belt; unit operating in line with other machines.
Machine suitable for the installation of:
ink jet or Laser printing system on the upper face and/or on both sides of cartons for printing of readable data as well as corresponding 2D code (Datamatrix);
relevant camera controls.
Standard Equipment
Twin horizontal flat conveyor belts, allowing carton accumulation at in-feed;
Minimum load control at machine infeed with automatic start;
Timing and distancing device (patented), servo driven, to dispense the cartons onto main toothed conveyor;
Twin horizontal conveyor toothed belts with adjustable width in order to handle different carton sizes;
Positive conveyance system. Cartons are kept in pitch, pushed by the vertical cleated belt;
Continuous mode speed adjustment;
Automatic working speed synchronization of motors;
Top belt to hold the seal during placement over the edges;
Control of pulling motion, of label carrier web;
End of reel control with machine stop;
Missing label control on reel;
Vertical and horizontal adjustment of the TE-SEAL and VIGNETTE position;
VIGNETTE smoothing system with brushes or rubber rollers;
TE-SEALS smoothing system with folding devices;
Folders for straight or reverse tuck-in cartons;
TE-SEALS and VIGNETTE carrier web rewinding units;
Regulation of overprint zone on VIGNETTE;
Maximum load control at the out feed with automatic start,
Dispensed labels counter;
All reel holder's operator side;
Extracted reel control with alarm;
Carton reject at discharge and collation in bin on operator side;
Control rejection bin in position with alarm;
Tamper Evident internal seals extractable reel, allowing for an easy change.
Machine complete with:
Power at 400 Volt, 3 phases, 50 Hertz, Ground & Neutral wiring;
Electric cabinet on board;
SIEMENS PLC;
Operator terminal TP700 Touch Screen, 5,7″ color. Seven levels of password;
Safety Guards in aluminum and Methacrylate. Schmersal type safety switches;
Machine stop in case a door opens;
Compressed air control pressure-switch. With machine stop at low-level detection;
Outfeed carton counter;
Rejected carton counter;
Work hour counter;
The machine has all safeties, required for a safe operation and corresponds to norms;
Delivered with CE mark;
Production speed: up to 400 pieces/minute;
Changeover is made without additional size parts as only some adjustments are sufficient.