BA 100 "L"
Intermittent motion automatic machine, feeding group into one line for squeezable tubes and manual loading station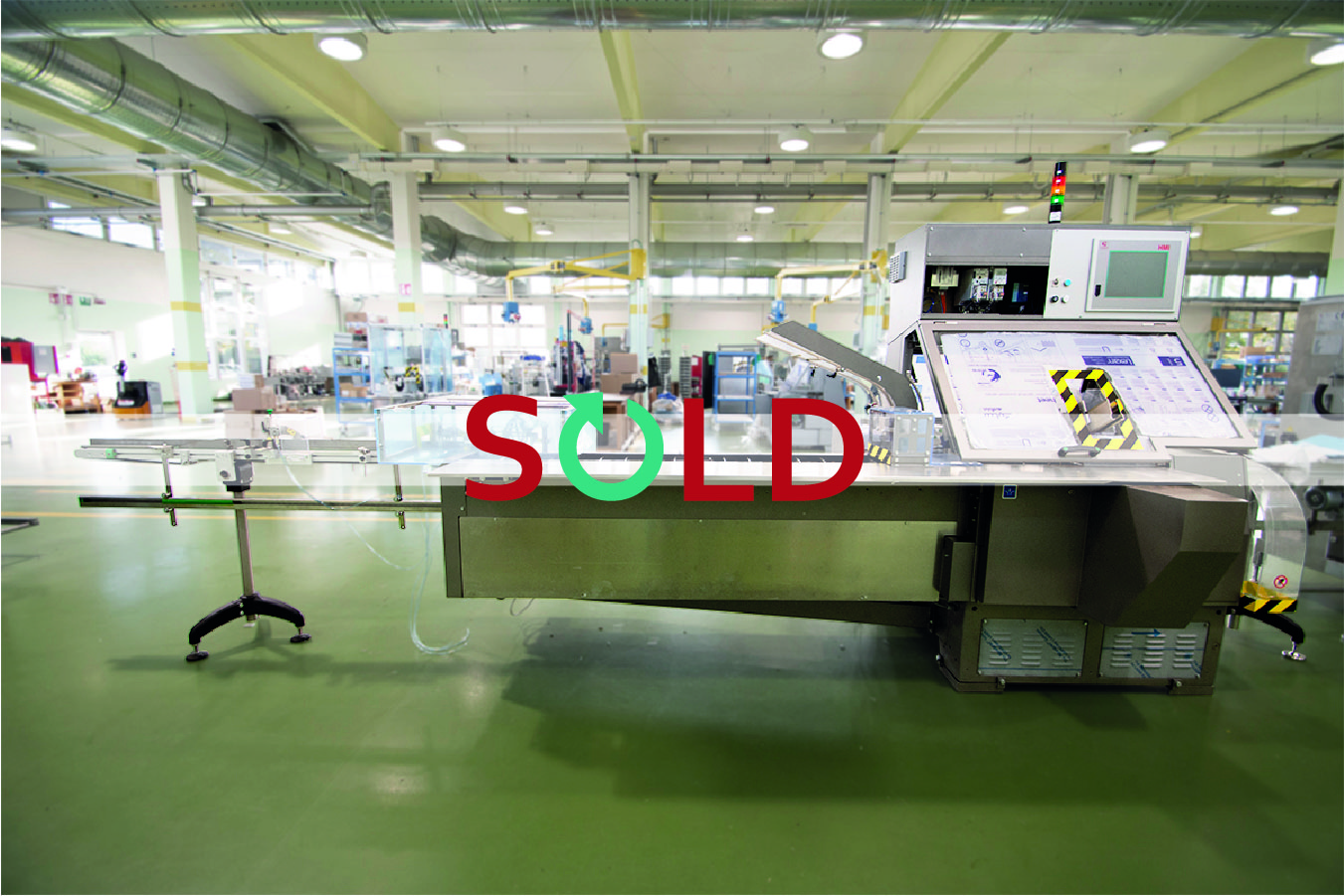 The Marchesini BA100 "L" is an intermittent motion automatic machine with horizontal transport of the carton, suitable for packing products into three-flaps straight or reverse tuck-in cartons.
Main Features
Design, manufacturing and ergonomics, in accordance with GMP norms;
Small footprint;
Adjustable speed motor, BECKER dry type vacuum pump and mechanical drives contained in the lower machine frame, separated from the working area;
Cartons transport with a fixed and a mobile motorized adjustable part to suit the carton length ("h" dimension);
Size changeover with millimeter scales;
CE marking.
Machine components
Machine in Large "L" Version, for longer cartons in the "h" dimension;
Top blade installed on the product pusher with cam permitting its lifting in order to allow the buckets passage in correspondence of the pusher return stroke;
The blade is suitable for inserting the prospect during the pushing of flexible products into the carton;
This solution reduces the max. length dimension of the carton format or the combination length/height;
A technical verification is needed in order to define the format limits;
Variation in Quote "h".
Mechanical Variations
Two elongations of the product conveyor;
Manual loading station, with support plane and microswitch to stop machine to prevent dangerous situations;
Kit of working parts with particular surface treatment suitable to handle cartons dedicated to luxury cosmetic articles.
Product Feeding
Product infeed chain with fixed buckets, designed to be connected to different types of automatic-feeding units.
Tube feeders
Automatic in-line Pick & Place tube feeder;
Tubes are discharged from Tube Filler into one lane, for squeezable tubes;
A belt provides to bring the tubes to a Pick & Place unit mounted at the belt end. The tube is transferred into the buckets of the infeed chain by a 90 degrees movement. The feeder allows for a maximum speed of 50/60 tubes/Minute.
Feeding groups for leaflets
Leaflet inserting arrangement.
The arrangement includes:
all transport movements;
a photocell control, to check if the leaflet has been picked;
electrical, pneumatic and vacuum pre-arrangement.
Standard Prefolded Leaflet Magazine (min. 20×105 max. 40x210mm).
The magazine is composed of adjustable inclined guides and can be easily adapted to the various dimensions.
The magazine must be loaded manually with prefolded leaflets in correct position. The unit is complete with a minimum load sensor, connected to a machine stop after 20-30 pickups under limit. The stop cause will be indicated on the Display.
Cartoning Section
Inclined, fixed, carton magazine, with standard length of 700 mm (27.55"), placed at approx. 1300mm (51.18") from the floor level;
Simplified magazine guide adjustment with millimeter scales;
Carton pick up from magazine (only if product is present) by means of a suction cups arm;
Carton opening through a blade with opening levers;
Carton transfer to the working stations by means of an intermittent motion rake;
Product insertion into carton through a pusher placed on the operator side, guided by a moving funnel retracting after the pusher has moved out, to ensure the product is kept inside the carton;
Carton closing and discharge on the outfeed guides.
Safeties and Controls
Safeties guards in methacrylate, integrated in the machine frame;
Emergency circuits and protections with safety level "PLd Cat.3";
Machine stop in emergency mode and release of the air pressure;
Overload control on the main motor with mechanic torque limiter and machine stop;
Overload control on pusher during the product insertion;
Control of carton pick-up from magazine;
Control of carton opening and calls for leaflet (if present);
Product presence control prior to insertion, with machine stop;
Cross control of product-carton-leaflet: in absence of product, the machine does not pick up neither carton nor leaflet;
Machine stop after three consecutive errors.
Included
One (1) carton and product size.
Optional Accessories
Inkjet, embossing or laser cartons marking;
Different types of carton closures (hotmelt or tuck-in closures), available on demand;
Pre-folded leaflets magazine or GUK open/from reel sheets folder, installed within the safety guard and loaded from the outside.