TURBO-MEK 1000
DUMEK vacuum turboemulsifier 1000 litres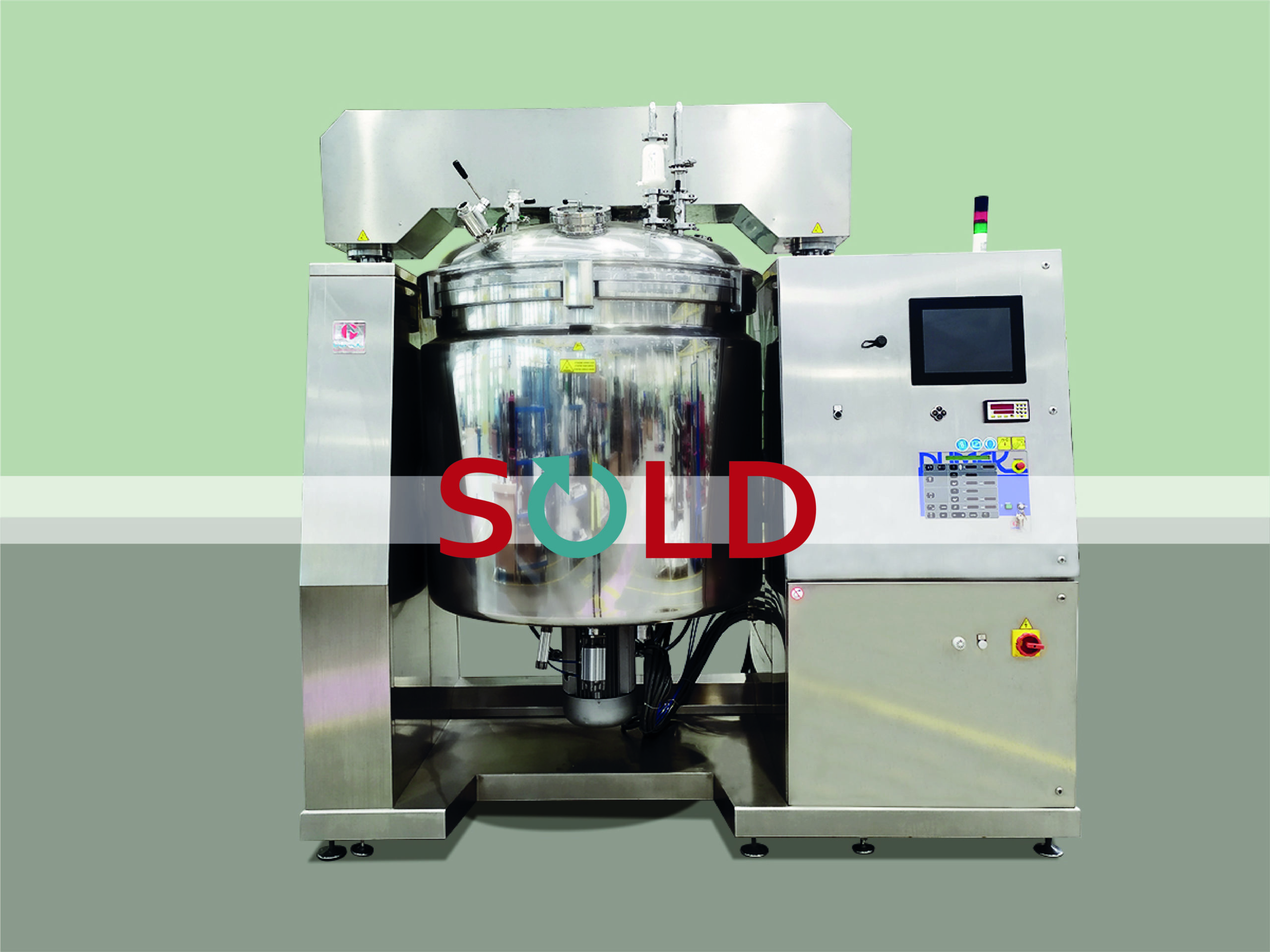 The machine is primarily intended for applications in cosmetic and pharmaceutical industrial production, and it is designed to process liquid and creamy products under vacuum.
Main technical features:
VESSEL
Workable useful volume: 1000 litres;
Minimum workable volume: 300 litres;
Openable curved lid with two hydraulic columns;
Tilting vessel;
Parts in direct contact with product made of AISI 316L;
N° 1 Drain piston valve placed at the bottom of the vessel;
N° 1 Additional manual valve on the vessel bottom;
N° 1 Loading automatic additional valve on lid.
LID EQUIPMENT
Funnel for auxiliary substances loading;
Sight-port equipped with glass-wiper and light-port with momentary light;
TriClamp connections;
Ball type valves.
TEMPERATURE CONTROL
Vessel jacket for heating and cooling;
Vessel heating through electric resistances;
Maximum pressure of the heating/cooling inner jacket is 0.49 bar;
Vessel insulating jacket.
PRODUCT LOADING
Automation of vessel single bottom loading valve;
System for weighing using Load Cells;
Automatic management of N° 1 load with cells.
VACUUM
Vacuum circuit with vacuum pump.
SLOW STIRRING
Double-Planetary Mixer;
Mixer speed adjustable in continuum through inverter;
Scraping blade with Teflon scraper.
TURBINE
Homogenizing turbine placed at the vessel bottom type stator and rotor multi-helix type;
Homogenizing turbine speed adjustable in continuum through inverter;
Turbine mechanical seals cooling with water in open circuit.
VESSEL EMPTYING
Pressurisation KIT (MAX. 0,49 bar) with pump.
WASHING
Set-up for internal washing with N° 2 class 2 spraying balls, manual valves and pipes.
BASE
Supporting structure in brushed stainless steel (AISI 304);
Electronic control panel with a membrane contact type keyboard DUMEK technology;
Digital visualization of the process parameters.