Poly 900
Tonazzi vertical cartoning machine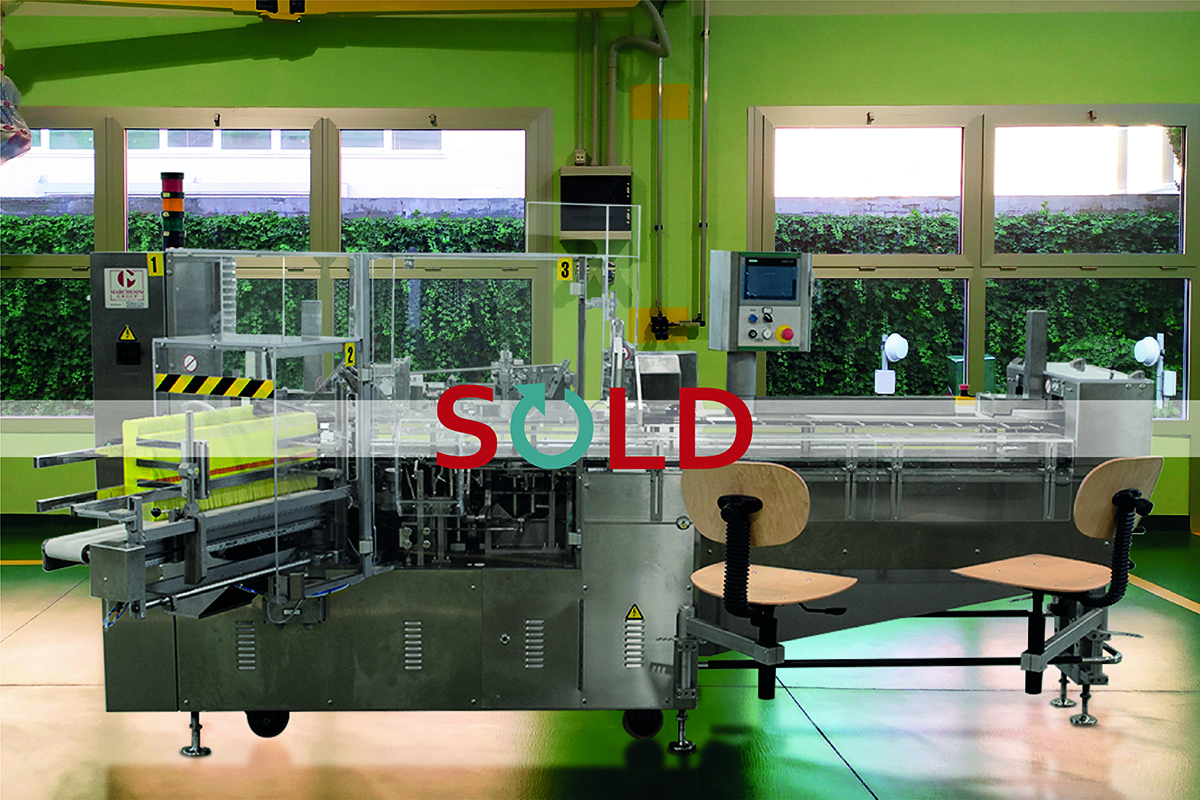 The Marchesini Tonazzi Poly 900 is an automatic intermittent motion vertical cartoning machine.
Suitable to pre break and to open three-flap straight or reverse tuck-in cartons, insert product, which has been manually fed direct into the top open carton, close cartons and discharge.
Main Features
The machine design provides high quality output based on a long term and proven experience in this field. The machine offers the advantage of a minimum space requirement. A heavy-duty structure grants safe performance. In the design, safety norms have been followed and the machine is delivered with the CE mark.
Product Feeding
Product is fed manually direct into the carton, which is presented with the open top flaps. Product feeding height is from 920 to 1120mm (36,25" – 44"), depending on carton length.
As optional equipment, operator seats for easy feeding are available. The footrest is mounted standard.
Cartoning section
High capacity carton magazine with pusher belt, standard length 800mm (31,5") at 750-870m (29,5 – 34,25") from floor level, with minimum load control. Simple and adjustable settings of magazine guides with digital indicators and millimeter scales. Carton discharge at a height of 870mm (34.25"). Automatic pick up of cartons from magazine, carried out by a double action system: pneumatically, by means of suction cups, and mechanically, by means of a blade. Pick-up control of carton from the magazine. After pre-breaking the carton is inserted direct between the lugs of the carton transport chain, which brings them to the working stations;
The first step is to close the bottom flaps. The top remains open for product loading. After loading also the top flaps are automatically closed;
A sensor detects carton presence inside magazine and in case of carton missing machine stops;
A sensor controls that carton has been opened and recalls the leaflet if leaflet magazine is installed;
A further control detects leaflet presence and in case of missing leaflet machine stops to avoid that empty cartons are packed;
A sensor detects product presence for produced pieces count up;
A sensor checks the product presence in the carton. If missing, the machine stops to avoid discharge of empty cartons;
Discharge of closed cartons on a plate by means of a pusher. Sensor checks correct discharge positioning to avoid jams on the carton transport chain.
Installed Safeties
Safety Guard in Methacrylate transparent (see through) material with electric interlocks, safety micro switches and machine stop in emergency mode;
Torque overload control on the main motor and immediate machine stops;
Overload safety joint on mechanical movements;
Carton presence control before leaflet pick-up, if the unit is mounted;
Leaflet pick-up control if the unit is mounted;
If a carton is missing and the leaflet group is mounted, the leaflet is not picked;
Product presence control after feeding;
Correct carton discharge control;
Machine stop after the first error with manual removal of not conforming carton;
Carton Size Change-Over;
Carton size changeover does not involve any extra Price as it may be carried out by making minor adjustments on the machine and replacing (when necessary) a few items, which are supplied with the machine tool kit. Where applicable, millimeter scales are mounted.
Machine complete with:
Standard voltage: 400 Volts, 3-phase, Neutral & Ground or, 220 Volt & Ground;
Standard frequency: 50 Hertz. Service voltage 24 V-DC. Other specs available as optional;
Standard machine finish in stainless steel without painted parts;
Operator's footrest in feeding position;
Tool kit including wear and tear parts;
Machine complete in all parts equipped to handle one size product and carton.