MA 50
Intermittent motion cartoner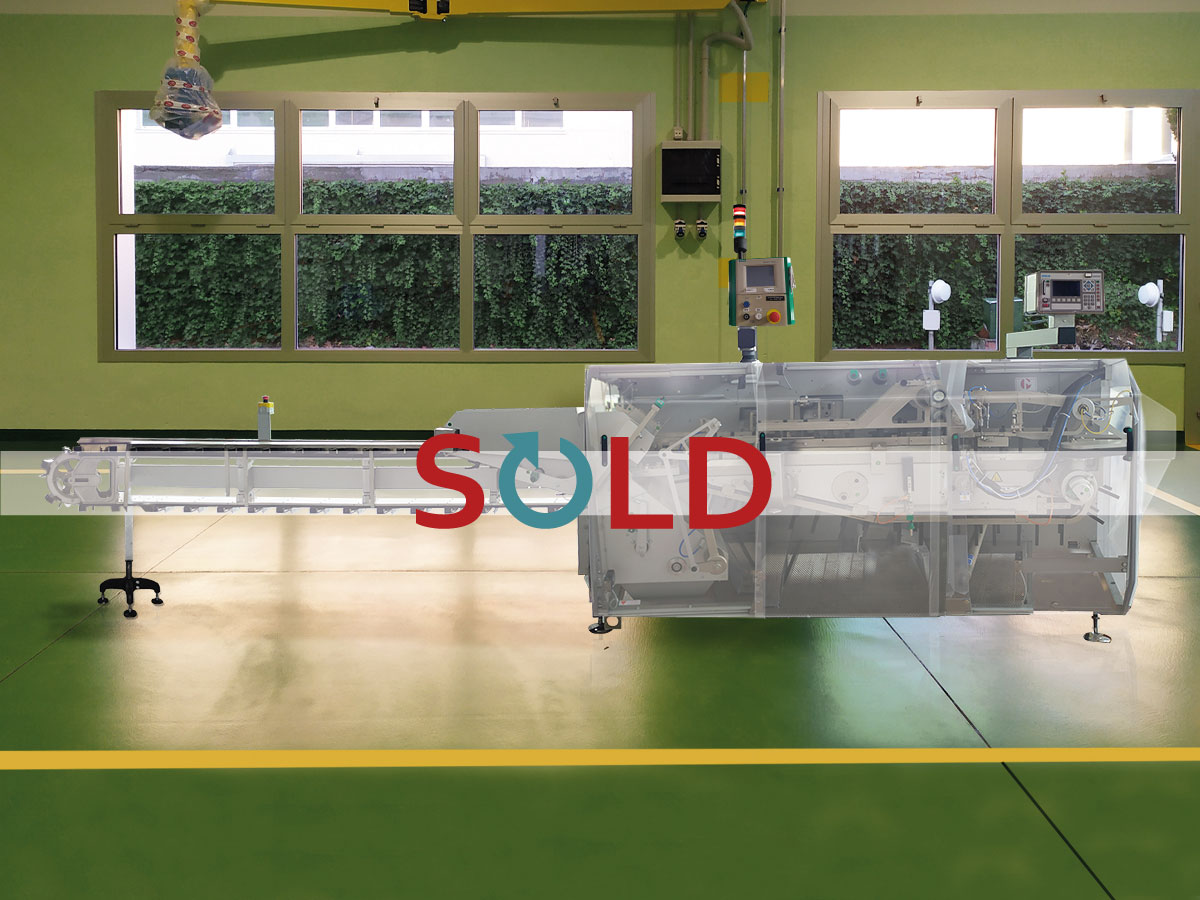 The Marchesini MA 50 is an automatic, intermittent motion machine, with horizontal carton transport.
Cartoning machine suitable to open cartons, insert the products from a bucket chain, close straight or reverse tuck-in flaps and discharge the cartons at the machine outfeed.
Main Features
Compact, solid frame machine offering high reliability and very good performances;
Designed and manufactured following the balcony design, one vertical partition separates the working and product-carton-leaflet transport area from the mechanical section improving in such a way accessibility, maintenance and cleaning operations;
Carton closing movements running in oil bath, enclosed in two drive boxes;
The lower and rear machine body, separated from the working area, contains the main three-phase Siemens motor. Vacuum is produced by Venturi groups and it is distributed by locking solenoids;
Products, cartons and leaflets, when rejected, are collected in dedicated collection bins, thus permitting a complete clearance of packing residues;
Optional installation of GUK open sheet folder or groups for the feeding of pre-folded leaflets;
Both devices can be mounted inside the machine safety guard with loading from the outside;
The machine has been designed and manufactured in accordance with cGMP norms and it is delivered with CE marking.
Product Feeding
Product bucket infeed chain designed to be connected to different automatic feeding units. Simultaneous adjustment of all infeed buckets (related to product width) by means of a dedicated tool and millimetre scales. Infeed and discharge height: 860mm +/- 50mm (33,85" +/-1,96").
Cartoning Section
Cartons magazine with motorized pusher belts having a standard length of 750 mm (29,52") with minimum load control. The magazine is placed in a lower than the product transport chain and it is close to the operator in order to improve the cartons loading which is made at about 900 mm. Simplified adjustment of magazine guides and pickup by means of millimetre scales;
Cartons opening system, consisting of an oscillating arm with suction cups and mechanical 90 degrees pre-breaking action, with direct transfer of the squared open carton into the belt transport system. Positive carton pickup control from magazine;
After the opening, carton is transported by a parallel mounted lug chain, which maintains the carton perfectly squared;
The carton transport system is adjustable from an only point and it is equipped with digital indicators;
The widening of the belt transport system is made through hand wheel and digital indicators for the adjustment of carton length ("h" dimension);
Product, arriving from the infeed chain, is inserted into the carton by a pusher placed opposite the operator side;
After the closing phase, lateral belts transfer the carton to the machine outfeed.
Installed Safeties
Safety guard in methacrylate transparent material, integrated on the machine frame, with safety micro switches on all the opening parts with machine stop in emergency mode and release of the air pressure;
Overload control on the main motor with mechanical torque limiter and immediate machine stop;
Overload safety on product pusher and machine stop. After clearance, a reset is mandatory;
Machine stop after three consecutive errors;
No product, No carton, No leaflet (if group is present).
Machine complete with:
Product bucket infeed chain with adjustable buckets (related to product width);
Handwheel, digital indicators and millimetre scales for easy size change;
Machine complete in all parts and equipped to handle one size product and carton.